News bulletin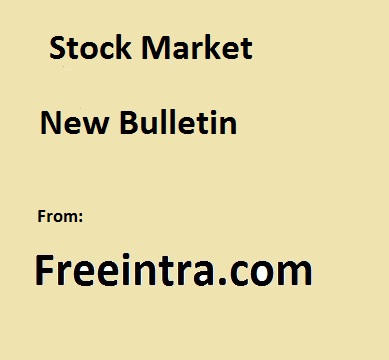 News bulletin from
Freeintra.com
Sensex 33213 points Nifty 10335 points
Date 31Oct 2017
At present we are in end of October 2017 has been eventful month.

Sensex and Nifty made all time highs repeatedly.
and from last week,market zooms on record high alongwith Bank stocks!
Bulls tightens grip,Nifty made high of 10363 (almost 500 points gain in 1 month)
Major reasons:
1)support from global markets
2)Continuous buying and inward flow from FII-DII
3)Banking stocks got historical jump this month
Nifty Next major support levels 9500,while major resistance will be 9900

Above 10K we will be again riding on Bull market rally.

Gainers this month (Nifty)
1)Bharti Airtel +28%

2)Reliance Ind. +21%
3)SBI +20%
4)BPCL +15%
5)Adani port +14%
Losers this month:
1)Yes bank -10%

2)Ind.Ind Bank -3%
3)HCL tech -2%
4)Bajaj finance -2%
5)HDFC -2%
We expect this rally will move further in Nov,2017
Nifty target 10500-10600 levels
But we suggest all investors to start profit booking now and remains on cash (20-30%)
As any negative news can spoil entire portfolio and its advisable to start profit booking.
New investments ( if short term) can be avoided,Long term investors may invest with caution.
Please follow basic thumb rule from Freeintra.com

Do trading while market near highs (Bull market)
Make investments while market falling (Bear market)its opportunity to Build good portfolio
Team Freeintra.com wishing Happy Trading and safe Investments!