News bulletin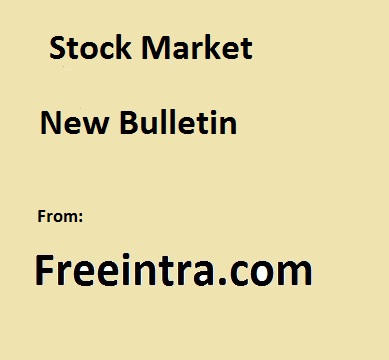 News bulletin from
Freeintra.com
Sensex 31449 points Nifty 9794 points
Date 15 Aug 2017
At present we are in Mid Aug,August 2017 has been eventful month so far.

Nifty made all time high of 10137 on 2 Aug
and from last week,market witness profit booking and strong selling pressure.
Bulls lost grip,Nifty made low of 9685 (almost 500 points down in 2 weeks)
Major reasons:
SEBI announcements,Corporate results below expectations,FII selling,RBI policy,India-China border issues being worries for Market
Nifty 50 DMA (DMA-day moving average) remains at 9780,
once Nifty slips below 50 DMA,market may correct further.
Nifty Next major support levels 9500,while major resistance will be 9900

Above 10K we will be again riding on Bull market rally.

Gainers this month
1)Sterlite techno +37%

2)PC Jewellers +31%
3)Infibeam +26%
4)Edelweiss +23%
5)Bata India 18%
Losers this month:
1)Videocon -36%

2)Indo count -31%
3)Religare -29%
4)Dr.Reddy -26%
5)HDIL -26%
FII this month -5556 Cr (Selling 5400 Cr in last 4 days only)
DII this month +7903 Cr (Buying 4700 Cr in last 4 days)
Please follow basic thumb rule from Freeintra.com
Do trading while market near highs (Bull market)
Make investments while market falling (Bear market)its opportunity to Build good portfolio
Team Freeintra.com wishing Happy Trading and safe Investments!